Let's be honest: No one really likes legacy systems. Most legacy setups at companies exist because either ongoing projects require older software/hardware, a rollout is too difficult to do all at once, or key decision makers just don't like change. But as technology becomes more advanced, many businesses find themselves dealing with the problems caused by an existing legacy system. Rather than offering businesses the latest capabilities and services, like cloud computing and superior data integration, a legacy system keeps an enterprise in a business rut. Let's explore what legacy systems are and how you can effectively achieve data integration with legacy systems.
What are Legacy Systems?
A legacy system is an obsolete computing software and/or hardware that is still being used. The system still fulfills the requirements it was originally intended for, however, it doesn't allow for expansion. 
Source: DeepCoreData.com
A legacy system isn't necessarily defined by age. It may also refer to a lack of vendor support or a system's inability to satisfy business needs. For instance, a large mainframe may utilize a 64-bit Java, while a Linux platform that came after the mainframe might use code from the 1960s to build application software. 
A legacy system is generally difficult (or incapable) to be maintained, supported, or upgraded. It is also typically incompatible with newly bought systems.
Challenges with Legacy System Integration
Here are the key challenges associated with legacy system integration:
Costly maintenance
The cost of maintaining a legacy system is high but mostly futile. While regular maintenance can keep it running, there's no or little chance for business growth with the legacy system. At some point, there won't be any more support or updates for a legacy system. If the system fails, you won't have anywhere to turn. 
Data stuck in silos
Many legacy systems are built on frameworks that can't directly integrate with newer systems. Consequently, every legacy system is its own data silo.
Isolated departments
Departments that use legacy systems are often left out of data integration occurring in the rest of the company. If one team maintains a legacy system while the rest of the organization upgrades, that one team is isolated from business intelligence and insights being created in integrated systems.
Tougher compliance
Organizations today must abide by strict compliance regulations. As these regulations continue evolving, a legacy system may not be equipped to fulfill them. For example, GDPR requires companies with customer data to maintain well-governed records, which is quite difficult in outdated, siloed systems.
Weaker security
Legacy systems are more vulnerable to hackers than newer systems. They have outdated data security measures, such as hard-coded passwords. 
Connectors for Legacy Systems
Legacy systems are the mainstay of many applications, which is why legacy system connectivity is becoming increasingly critical within the enterprise. For instance, the average age of a state government's tax system is 24 years old. As time goes on, such old systems, which are built on obsolete technologies like Cobol, IBM DB2, Netezza, Sybase, etc., must continue to co-exist with more modern systems within the IT ecosystem.
A modern ETL software is equipped with connectors to better surface data from your legacy system by integrating it with modern systems and, in turn, get more out of your legacy stack. For example, there are connectors with ETL software that offer the capability to read COBOL copybook and IBM DB2 BU files. As a result, they help organizations integrate mainframe data with big data for data warehousing and analytical purposes.
Source: Xenon Stack
Why Manual Integration Is Not the Solution
Nearly 25% of businesses struggle with integrating new applications with their old systems. That's because legacy system integration isn't always easy to achieve. Here are the key drawbacks of manual data integration with legacy systems:
Manually integrating legacy systems can often mean investing time and resources into labor-intensive point-to-point integrations with custom code.
If there are more than one integrations, point-to-point integration is inadequate. 
There is often a lack of engineers that have the experience of working with mainframe systems. These systems require knowledge of legacy programming languages (e.g., COBOL) as they have been coded in "old code". 
Manual integration can cause an enormous loss in terms of business continuity if the integrations fail or develop errors. That's why 46% of IT decision-makers believe process automation is critically important.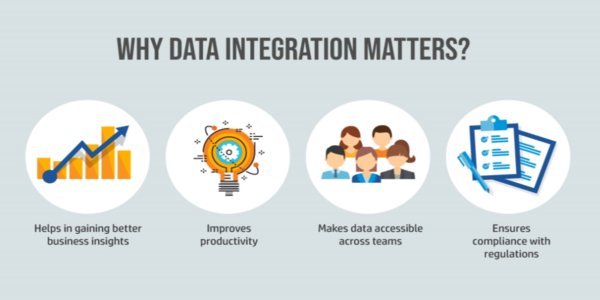 How ETL Software Help Connect with Legacy Systems
An ETL software can help organizations to address their connectivity challenges by having connectors that support integration between legacy systems and other applications. This makes the data transfer process between old and new systems flawless while simplifying the jobs of ETL teams. As a result, you can use data integration tools to manage your legacy systems without replacing them.
You will be able to extract data from them without sacrificing reliability, performance, or security. Your business processes will keep running without disruption, and you will be able to communicate with both your internal and external stakeholders in real-time.
Modern ETL software offer support for a variety of legacy data formats, providing companies with a future-proof solution to address their data integration needs. Automated data integration tools like Astera Centerprise can help you bridge the gap between legacy and modern systems. It allows organizations with older systems to adapt to modern business needs while increasing their ability to quickly connect and adopt new technologies.